With the size of the market as it is online casinos have to use every trick in their arsenal to attract new customers and keep existing ones. The online casino bonus is one such marketing technique and it is used in one form or another by all but a very few. The thing to remember is that it's not free cash. It's used by casinos to get people playing and keep them playing. If casinos gave away free cash they would be out of business before their first anniversary. Think of most bonuses as extra playing credit. Some are genuinely worth going for but it all depends on the wagering requirements.
You Can't Talk About Bonuses Without Talking Welcome Bonus
The welcome bonus has been with us from the start and is usually a match bonus. That is that the casino will 'match' a percentage of the deposit you first make. There will be a limit on how much you will get a bonus on and the percentage varies from site to site. A typical example is a 100% up to $1000 so this works as follows. You deposit $250 the casino adds $250 to your account. Whoop whoop hurrah. Not so fast. Then the wagering requirements come into play and they are tough and need understanding before you even accept the bonus. So let's take a relatively generous wagering requirement of x20. A lot are higher and this is where you need to be careful. So the x20 means the sum of both the deposit amount and the bonus must be wagered before you can withdraw any winnings. So the maths are 20* ($250+$250) = $10 000. That's $10 000 in wagers you must place before any cash out. So it doesn't sound so easy to get does it? Every casino will have different terms and conditions and the wagering requirements must be explained by law. So ask the customer service any questions you have before accepting the bonus. All bonuses have an opt out so you don't have to commit. When you see higher percentages offered they will almost always have a lower maximum bonus given. If a percentage gets up into the rarified atmosphere of over 300% match bonus then the wagering requirements will be harsh.
No Deposit No Risk Got To Be The Best Online Casino Bonus?
Back in the mists of time when online casinos where this new untried concept the no deposit bonus was all the rage. Nobody trusted the internet, paying cash into a computer to gamble with, no chance. There had to be a way of getting the wary onto their books. Once they were in the doors so to speak the games would do the rest. So the no deposit bonus was a cash incentive to get bodies at the tables. It worked and worked extremely well. Back then the lawyers working on the terms and conditions were not so on the ball. The term bonus abuser was coined when hundreds of punters found loopholes and exploited them. The lawyers worked overtime and the wagering requirement system went overboard. Before long nobody saw them as viable and they were dropped by most. They are still used on occasion if a brand has a new piece of software they want downloaded or to go mobile for example.
Fat Bankroll? Fat Bonuses
Brick and mortar casinos have always courted the big money. They will spend thousands to pamper the high rollers in the off chance thy will dump millions into their coffers. Private jets to fly them in from around the world. Chauffer driven limos for the duration of their stay. Hotel suites, show tickets, a seat at the big fight, champagne all night these are all tactics use to part cash from its owner. All of us middle of the road gamblers are the bread and butter of a casino and we get looked after accordingly, but the chance to take the Asian billionaire for a couple of mill is worth the caviar. While there is no use for a limo from the airport to your front room to play at the online casino they still treat the money with more respect. Start depositing in the thousands of dollars and online casinos consider you a high roller. The deposit bonuses kick up a notch. These will have a min deposit of at least $1000 but you will get say a 50% match with no limit. Big deposits almost always get a reload bonus as well. But it all comes back to the wagering requirements and they make it almost impossible to get ahead for most. The best thing about depositing big is you quite often get invited to the VIP rooms or the exclusive games that have higher table limits with slightly more favorable odds. Games like high roller blackjack with just one deck of cards used, this is a much better format for serious blackjack players so has to be a bonus. So it's worth looking around because having more money gets you into more places, it talks louder.
Us Lowly Bods Still Get Taken Care Of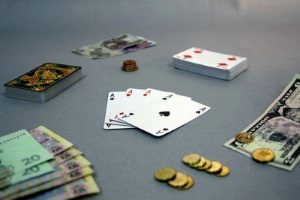 Don't worry online casinos know that we middle of the road recreational gamblers keep them going. Once you have customers you need to keep them. No point getting them in only to lose them to another site with more to offer. Land based casinos have free buffets and booze to keep us coming back. Loyalty cards for regular visitors, filling up the card over the week and getting a ticket to the show at the end. Online casinos have the loyalty scheme this is a form of cash back bonus in the most part or though some go a bit further. The standard way it works is every dollar you wager you will get a set amount of points for. A certain number of points and you will get a dollar in exchange. The ratio is not so good most work on the $10 wagered is one point and 100 points is one dollar. Not so generous some might say but it is tangible and has no catch to it. These rates are different with certain games and venues so it's worth checking you rewards you the most for playing your favourite game. The casinos that mix it up a bit have VIP tier schemes, move up the ladder and you could be eligible for a prize draw and win a holiday. Or get invited to exclusive tourneys and high stakes tables. Loyalty schemes are one area where casinos can differ widely so look into them closely.
A Bonus To Bank?
Well a bonus to bank in a certain way to be accurate. This is one bonus that needs explaining, raise an eyebrow and ask why should I be banking how you want me to? What's going on? My credit card is fine thank you. The truth of the matter is your credit card might not be fine. Certain governments around the world have made life difficult for online casinos. When blocking them doesn't work they resort to making life difficult for the credit card companies and banks making financial transactions. When online casinos ask you to deposit with say Neteller or Skrill they don't have any other motive in mind other than to smoothly facilitate a deposit. I you try your card first and have issues you may well not trust the casino as much and go elsewhere. Most online casino use third party companies to make the money move the fact of the matter is e-payment methods work better so I cheaper for the casino. So the banking bonus was born typically it isn't large maybe 10% match bonus on top of any deposit bonus.
Refer A Friend Get Some Cash
If you have been into gambling a while there's a good chance you know other gamblers. As the online casino world are pretty good at knowing us they figured it out. So along comes the refer a friend bonus. Get your thrill seeking mates to sign up and deposit with the same casino as you and they will give you bonus cash. Of course it will have terms and conditions applied to it. You will have to fill in a form and then get a code that your mate registers with and you get the top up. There will of course be a minimum deposit your friend has to make. The best thing about this one is that there is no limit to how many friends you bring along. You get the same for all of them. Makes sense really to the online casino the more the merrier. The bonus usually runs in at around $50 a time but the deposit is usually $50 min. There are hundreds of possibilities for bonuses and promotions what it is important to remember is that they are marketing tools designed to win customers. Not free cash.